Golf and Fitness Assessments
Designed to track the progress of your junior
Golf Assessments
Golf assessments are on-course, score-based assessments that track the progress of juniors 8 years old and up. We've created assessments that test skills at the most fundamental levels and progress to a full 18 hole on-course round. Juniors can track their progress throughout their time in our program and see what parts of their game need work and what parts they can continue to excel at!
Juniors earn new color uniforms every three levels receiving a royal uniform for levels 1-3, a navy uniform for levels 4-6, and a black uniform for levels 7-9.
Policies
Juniors must be 8 years old and up to attend a golf assessment.
All new participants must assess through the levels and start at Level 1.
Juniors can assess up to four (4) times per session and must register online.

Tee times will be sent out the day before assessment date.

Juniors must be a Level 6 golfer to sign up for Learn to Compete classes.

If your junior levels up from Level 5 to 6 during a session, they will not be able to switch to a Learn to Compete class until the following session.
Update: Juniors are only allowed to assess up to Level 3 at Don Knabe GC starting Fall 2018. 
Juniors assessing Level 3 and above will assess at Van Nuys GC in the San Fernando Valley community.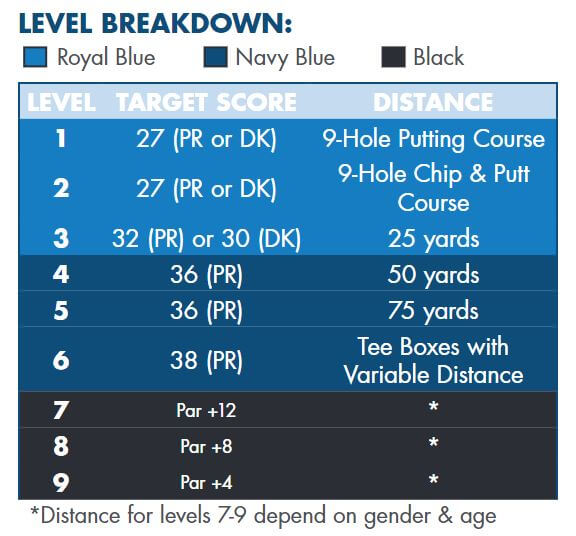 Fitness Assessments*
Based off curriculum developed by the Titleist Performance Institute (TPI), we use 4 physical tests to track your junior's physical fitness focusing on speed, power, and agility, all which are crucial in the golf swing. These four tests are Seated Chest Pass, Sit up and Throw, Shuttle Run, and Vertical Jump. The tests are administered during class during the fourth week of instruction.

*Only juniors in a Learn to Compete class take fitness assessments
 REGISTER FOR GOLF ASSESSMENTS
 REGISTER FOR GOLF ASSESSMENTS